Over the last few years Canggu has become a place for health and fitness. Gone are the days when the only way to stay toned was to pick up a board and head for the water. Nowadays, it seems you can hardly move for gyms, CrossFit, boxing and yoga studios, not to mention all the healthy cafes, restaurants and even nutritionists and personal trainers that keep popping up! However you prefer to keep active, you will find yourself spoilt for choice. As always, when there are so many options, it can be difficult to know where to start, so here is a quick rundown of some of the best gyms in the 'Gu, that should help to point you in the right direction.
1. S2S Crossfit
Bali's first CrossFit affiliate has been helping to tone up Canggu's clientele since 2013. They offer daily (except for Sundays) CrossFit classes as well as HIIT and high intensity cardio workouts. If you fancy the idea of working out on a tropical beach, then this may be the workout option for you as the gym lies just a few minutes walk from the ocean and several of its sessions take place on the sand. There is no need to book ahead for classes, but if you do, then you can get a 5% discount.
If you really take your workouts seriously, and want to make staying in shape the focus of your time in Bali, S2S offers an 'Eat Sleep Lift' holiday package, providing you with accommodation, food, and unlimited gym time for a bargain price.
A major feature of the ideology behind S2S is the importance of fostering a sense of community, which they do by arranging social events, like competitions and BBQs, making this one of the friendliest gyms in town.
Website: s2scrossfit.com
Location: Jalan Raya Semat No.1, Tibubeneng, Canggu
2. Wanderlust Fitness Studio
Wanderlust Fitness Studio is the newest branch of the Wanderlust Crossfit company that has taken Canggu by storm. It can be found inside Gu Village, with windows that overlook the Alternative Beach swimming pool, a new day club in Canggu. There are both classes with professional instructors as well as equipment for freestyle workouts. There are daily fitness and yoga classes, and even half-price yoga on Tuesday and Thursday afternoon (only 50K IDR!).
Another great thing about this gym is that is a café / restaurant on the first floor with delicious healthy meals and shakes. To get more information about the times of all the classes check out Alternative Beach their website or Instagram @alternative_beach
Website: crossfitwanderlust.com & alternativebeach.com
Location: Jalan Pantai Batu Bolong, No. 78, Canggu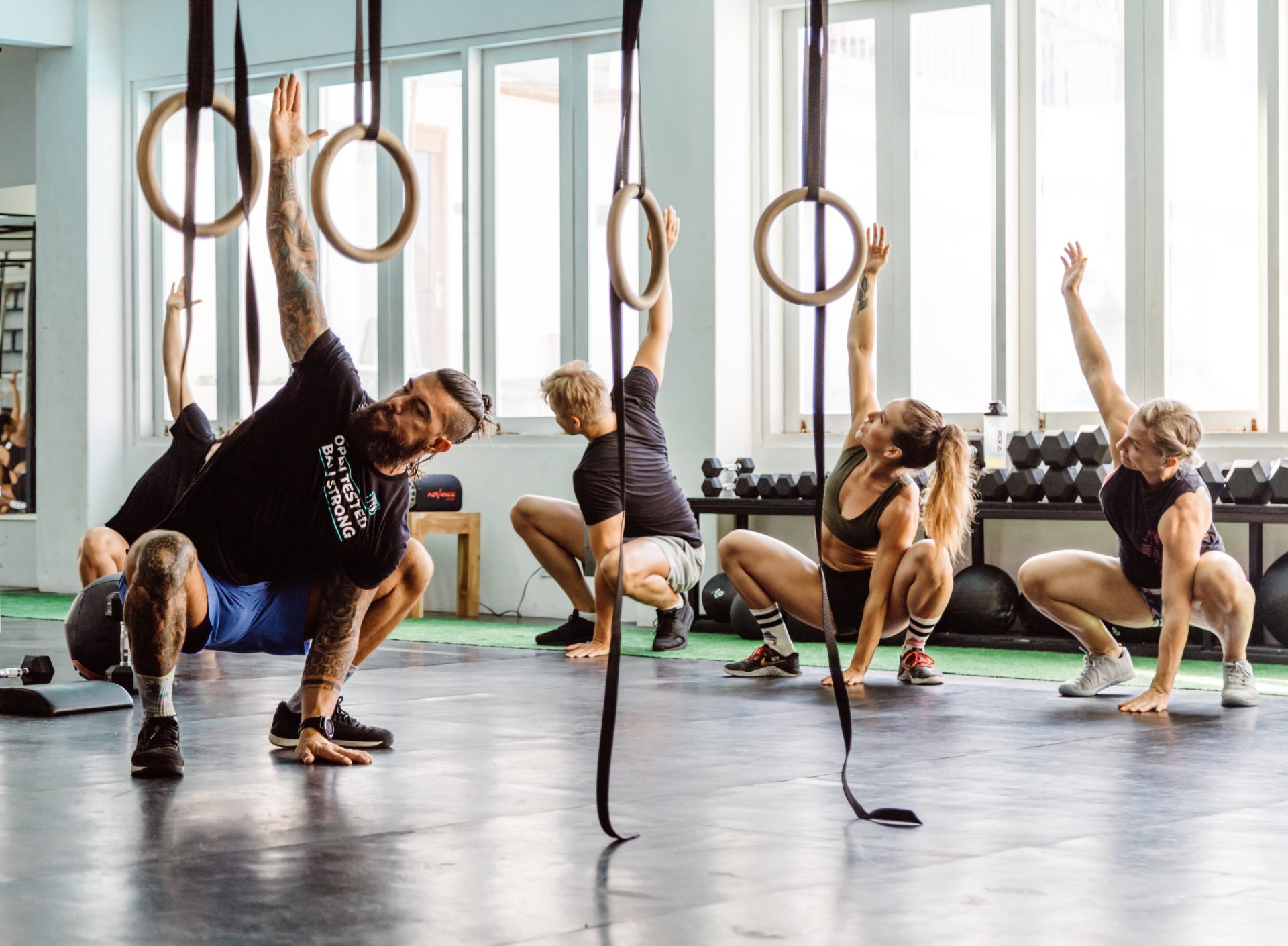 3. Finns Recreation Club
Finn's is such a multi-functional venue that you will see mentioned in pretty much every article about Canggu. There's so much to do, from dining and drinking to trampolining and bowling that you could probably spend your entire holiday there! In terms of fitness, the air-conditioned gym is arguably the best designed and most well equipped on the island. Classes run the gamut from yoga to cardio combat and personal trainers are available if necessary. In addition to the open gym, there is a large studio for classes, a lap pool and a cycle room for any spinners out there. If you prefer your sports to be a little more social, Finn's runs several group sporting events every week, including tennis, basketball, AFL and ultimate frisbee.
To top it all, there is a fantastic spa where you can get the massage, that you will no doubt be craving, after all the physical activity!
Website: finnsrecclub.com
Location: Jalan Pantai Berawa, Canggu
4. Odyssey MVMT
This is a philosophical but fun-filled gym that promotes a two-pronged approach to fitness (in fact, their mantra is 'Go Both Ways'!) combining yoga with high intensity functional fitness.
Odyssey doesn't use traditional names for its classes, you really have to read through the descriptions to get an idea of what is available, but I would recommend the 'Odyssey Signature', a perfect blend of fun, high intensity activities and recovery yoga poses, complete with a relaxing Savasana at the end.
Its also great for anyone who has a started operating fully on 'Bali time' as there are no official start times, you just turn up whenever you want!
Website: odysseymvmt.com
Location: Jalan Subak, Canggu
5. Canggu Nest
The Nest is one of Canggu's hottest new workout spots. The venue is super-stylish, exemplifying the boho vibe of the 'Gu and the equipment and trainers are absolutely topnotch.
There are daily 'Happy Hour' open gym sessions as well as several small group classes including, interval training, strength, boxing and pilates. If you need a little extra motivation, personal training can be arranged.
Website: canggunest.com
Location: Jalan Pantai Berawa 105.5 level 2, Canggu
6. Motion Fitness
Part of what makes Motion Fitness such a great gym is that the staff take a holistic approach to health and fitness. The end result of this is that those who choose to train there receive a much more personalised service than can be found in many other gyms.
Physical fitness at Motion is focused around group classes and personal training sessions. They offer a comprehensive range of disciplines including cardio based activities such as Triple Threat and Fit Flow as well as strength training, yoga, capoeira and pilates. As far as personal training goes, this can be done on either a one on one basis or for small groups of two to five people. In addition to physical training, nutritional advice will be provided and, If you can't make it down to the gym, the trainer will come to you!.
If you are having any dietary troubles, then one of Motion's fully certified nutritionists will be able to put together a personalised meal plan to help you find the perfect healthy balance. If you want to give one of their meals a try then pay a visit to the Motion Cafe where you will find a variety of organic dishes, designed to follow several different dietary regimes.
Don't forget to stop by the Motion store where you can pick up a few delicious and nutritious snacks, as well as eco-souvenirs, to take back home with you.
Website: motionfitnessbali.com
Location: Jalan Petitenget, Canggu
 7. Bali MMA
This one is not for the faint of heart! The setting may not be as pretty as some of the other gyms on this list, but Bali MMA is considered to be one of the best fighting gyms in Asia. The venue consists of a boxing ring, a padded striking area and a grappling room. Highly experienced instructors, offer classes in a variety of fighting styles, including Muay Thai, MMA, Boxing and Brazilian Jiu Jitsu, to newcomers and experts alike. There are also special training options available for kids.
Website: balimma.com
Location: Jalan Raya Padonan, Tibubeneng, Canggu
8. The Canggu Studio
The Canggu Studio offers a huge variety of classes covering all conceivable aspects of fitness from dance and yoga to martial arts and high intensity workouts – they even have Beyonce Dance sessions for heavens sake! All of this takes place in a studio that is so beautiful its practically sublime!
When you've finished shaking your booty, head on over to the onsite cafe for a few healthy treats, or stop by the shop to pick up the latest in gym gear.
Website: thecanggustudio.com
Location: Jalan Nelayan No.32, Canggu
9. 2beFit Bali
Another one for the beach-lovers! If you've ever found yourself wondering along Batu Bolong beach at 7am in the morning, you may have noticed a group of enthusiastic looking early birds lifting water bottles filled with sand. There's no need to worry, they're (probably!) not crazy, they're just the team from 2beFit Bali on one of their thrice weekly training sessions. There's no need to book to join in with this funky, but intensive, workout programme, just turn up on the beach and get stuck in.
2beFit Bali is possibly the best way to make the most of being in the tropics whilst keeping fit: some beautiful scenery, a fun atmosphere, and, what better way to cool off at the end of an intense workout than a refreshing dip in the sea?
Website: 2befitbali.com
Location: (in front of) Warung Loloan, Jalan Nelayan, Canggu